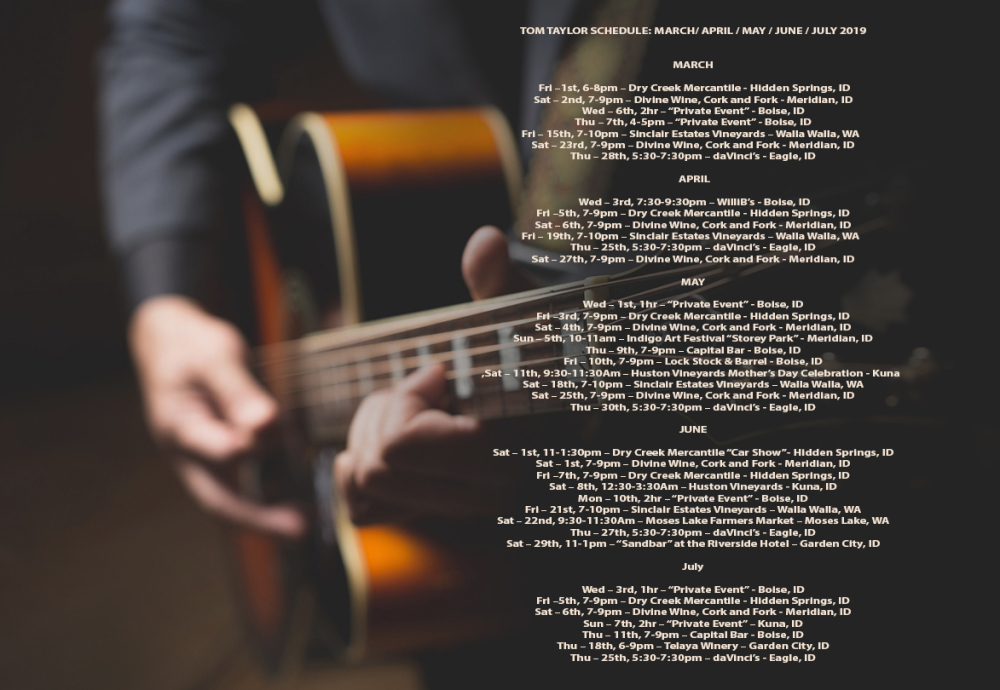 "My Wife and I were literally blown away!! Toms impressions of our favorite artists were so incredibly realistic. We loved his Johnny Cash, Beatles, Neil Young, and Neil Diamond impersonations. He performed each artist in medleys which transitioned from song to song with no break in the action. This is truly a "Pro Act" and something we would expect to pay lots of money to see in Vegas.

" Steve and Chris L. Reno Nev. 02/12/2016
"Tom plays regularly at The Riverside Hotel for special events, in our premier lounge and in The Sapphire Room. He's a true professional and a world-class talent. We will hire him for years to come."

Stephanie Leavell, JBH Hospitality

​
The
Riverside Hotel  
Boise ID 11/08/2016

​"Tom Taylor has had some big doors open to him in the music industry, and we worked together to get everything he will need for his Album." Tom is such a talented musician, and I can't wait to see his career explode!


Annelise Michelle Photography Walla Walla, WA
"A truly great talent that works wonderfully with the audience! I would absolutely go out of my way to see him perform!"

Chris Kontos, Kontos Cellars Winery Walla
Walla, WA: 11/03/2016
​​

"Tom Taylor rocked our party!" His engaging demeanor and excellent blend of original music and cover songs had our friends singing along and dancing. We have followed Tom at different venues and he always puts on a great show. If you are looking for a dynamite talent for your next event, Tom Taylor's the one.'

Holli H Private Party
Boise ID 9/16/2015
​​"Thanks again Tom for such a great performance at Fallapalooza!" We are so grateful for talented and kind souls like you!!

Brittany P "Fallapalooza" Women's and

Children's Alliance Benefit Concert Boise ID 10/03/2016​​
"Listening to Tom Tom Taylor and having a nice glass of wine.. not a bad way to spend a Friday night."

"Karyn Z" Divine Wine Meridian ID: 10/02/2016